Swiss Pine Suite
One-of-a-kind suite full of warmth and charm
Rich in history and the sweet smell of Swiss pine – the Klosterhof's largest suite amazes guests. The unmistakable fragrance of Swiss pine resin and its beautiful knotty surface easily remind visitors of a cosy alpine farmhouse. Here you can lose track of time, relax and simply be. Our Swiss Pine Suite is a charming yet modern refuge full of tradition – and gives guests the feeling of truly being in the Alps.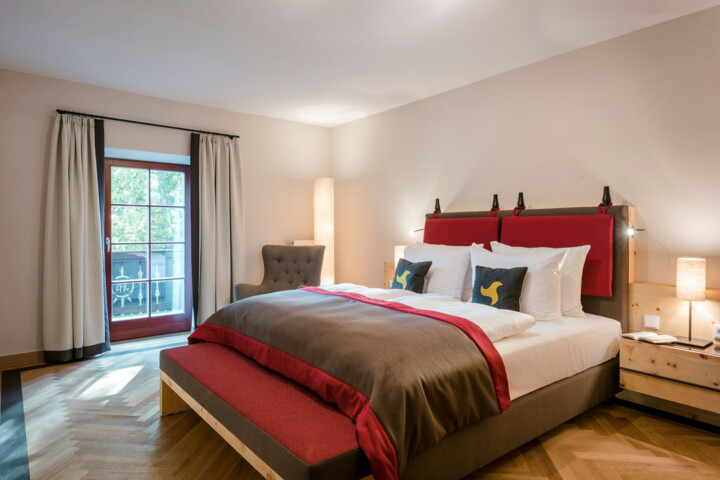 2 adults + 2-person sofabed (upon request)
80m²
Highlights of your suite
Bright living and sleeping areas with Swiss pine furniture and vintage Klosterhof pieces
Cosy sitting and reading area
Incredible views of the mountains and our pristine surroundings
Separate bright sleeping room with cosy seating
Swiss pine has positive effects on your health and sleep
Comfortable bed (180 x 210 cm)
Spacious bath with tub and shower, separate toilet
Desk, minibar, 48" TV
Hardwood floors
Large balcony
Air conditioning
Useful information
Rooms for guests with allergies
We have a selection of allergy-friendly rooms available. The Klosterhof is the perfect place for allergy sufferers – we have hypoallergenic mattresses and bed linens available. Please inform our reservation team that you require a hypoallergenic room at the time of your booking. The Klosterhof is officially classified as an "allergy-friendly hotel" by the Berchtesgadener Land Tourism Board.
Accessibility
The Klosterhof has two wheelchair-accessible rooms for guests with limited mobility. We have been assessed on our accessibility and have received the "Accessible for People With Limited Mobility" seal. See the detailed inspection results from "Reisen für alle" ("Travel for all") and more information here (information available in German only). As your barrier-free hotel in Berchtesgadener Land, we look forward to your visit and will be happy to provide more information ahead of your stay with us.
COVID-19 – Update 2023
Currently there are no official Corona rules for hotels in Bavaria. Nevertheless, please pay attention to safety and hygiene.

Free rapid tests are still available for you and we urge all guests to take advantage of the test offer at the Klosterhof on a regular basis. Our team continues to test themselves daily before starting work.

Due to our owner Dr. med. Andreas Färber, the entire Klosterhof team has access to daily obligatory rapid tests as well as to a voluntary vaccination offer directly in the house. Thanks to our comprehensive protection concept, we were also able to successfully and safely master the last two challenging years and remain true to our motto "Begeisterung Leben".

We have summarised all the important questions for you below.
The top 5 reasons for a safe holiday with us – reasons to choose the Klosterhof:
Personal, privately-run hotel with just 65 rooms and suites in an exclusive, secluded location
Spacious rooms – over 150 m² gross floor area per room (compared to the average 90 m² for the 4-star superior hotel sector)
The latest technology and ventilation systems with appropriate filters with the exclusive use of fresh air
Access to the Artemacur Health Centre in the same building; under the direction of Dr Andreas Färber (German Lung Foundation award-winner in connection with infectious respiratory diseases)
Personalised, frequently re-evaluated hygiene concept and staff training given by Dr Andreas Färber himself
Please note that the guidelines and requirements on the part of the government for hotels are constantly being adapted. All information is always kept up to date by us and published on this page.
COVID-19 test at Hotel Klosterhof Bayerisch Gmain
We are happy to provide you with free Covid-19 antigen rapid tests during your stay.
In case of signs of illness during your stay, please contact us by phone from your room, our team at the reception will take care of all further necessary steps.
Wellness in our Artemacur Spa
Our 1,500 m² Artemacur Spa is very spaciously designed considering the small number of rooms and suites we have (65 in total).
At the moment, the following regulations apply to the state of Bavaria and therefore the Klosterhof:
Cosmetic treatments and massages in the Artemacur Spa are being offered in compliance with hygiene measures. Our well-trained cosmeticians and therapists look forward to your visit. Please book your appointment in advance.
Our spacious sunbathing lawn and sauna garden are open. One thing we don't lack at the Klosterhof is space – surrounded by lush green meadows and forests and with a view of the Alps. You are sure to find your own favourite spot!
Our activity programme features a wide selection of sports, cultural highlights and adventures – we have focused on outdoor activities.
Our yoga room and gym are open.
Our indoor pool and heated outdoor pool are open.
Our saunas are open.
Sports & activity programme
We offer our guests an extensive activity program with a varied mix of sports, culture and adventure. In addition to our monthly concerts and live music, this naturally includes hikes through the Berchtesgadener Land, Nordic walking, e-bike tours, yoga and fitness courses in small groups in the fresh air. For participation in the courses, an entry in our activity book at the reception is mandatory in advance.
Book a worry-free holiday – flexible cancellation policy
We would like to personally advise you on your vacation planning. We understand that you want to be as flexible as possible due to the current situation.

Free cancellation or rebooking is possible up to 7 days before your arrival (except Christmas/New Year's Eve/special packages).

If you are unable to travel because of illness or quarantine at home, cancellation costs will usually be reimbursed by your travel cancellation insurance, which we encourage you to take out at these times.
Our hideaway is a safe place to stay
As a relatively small, family-run hotel in an absolutely secluded, exclusive location and with just 65 rooms, we are far from the crowds and stresses of everyday life. Your host Dr Andreas Färber worked for many years in international epidemic control and has gained valuable experience in this area.
As a health resort, we see it as our duty to uphold the highest hygiene standards.
We would like to inform you of the measures we are taking in advance so you can plan your hard-earned holiday without worry. Some of our measures include the following.
Comprehensive cleaning and disinfection are standard at the Klosterhof. Because all public areas and rooms have tiled or wood floors, they can be easily cleaned with disinfectants.
We are carrying out increased disinfection of all surfaces, with additional attention paid to frequently-used surfaces such as lift buttons, door handles, etc.
To ensure the minimum social distance of 1.5 metres can be kept, this distance is marked at locations around the hotel. This includes the set-up of chairs and tables in the restaurant, dining rooms and garden.
There is a restriction on the number of people allowed in areas of our premises.
Plexiglass sheets have been installed at the reception desk.
There are hand disinfection stations in all public areas, as well as the Artemacur Spa.
Your room will continue to be cleaned and disinfected according to strict criteria. All of our air conditioners are equipped with special, state-of-the-art ventilation systems that are guaranteed to use fresh air.
All staff have received extensive training in their area and are updated on any changes on a daily basis by Dr Färber himself.
Before starting their shift, every employee is asked about coronavirus symptoms.
We understand that you may have many questions about your holiday at the Klosterhof due to ever-changing information. We are closely monitoring the situation. We are here for you and are happy to answer any questions you have.
Contactless pre-check-in:
Help make an important contribution to our hygiene concept by sending us your contact details for check-in in advance. Thank you for helping ensure everyone has a safe holiday.
Submit your check-in data here
Discounts for direct bookings
For stays from 3 nights: 5% off the entire price.
For stays from 8 nights: 10% off the entire price.
For long stays from 15 nights: 15% off the entire price.
See our price lists and holiday packages for more information.
Single occupancy
Our room prices are calculated for bookings of 2 people. Our double rooms can be booked for single occupancy. Please contact us directly for more information.
Hotel brochures
We will be happy to send you our current hotel brochure and price list by post. Simply email your enquiry to info@klosterhof.de
Or, flip through online:
Klosterhof included amenities – what is included in my stay?