A Restaurant Rich in Variety: GenussArt at the Klosterhof
A very special restaurant in Bayerisch Gmain
The evening creeps in over the Lattengebirge mountains; the stars sparkle in the sky; and you soak up the views from the oversized windows. A dinner at our GenussArt restaurant is a pleasure. Creations full of flavour – often with regional ingredients, prepared healthy and influenced by award-winning cuisine – our restaurant team gladly serves up specialities conceived by head chef Sascha Förster. Hotel guests enjoy their time at GenussArt, as do locals seeking the perfect restaurant for a special evening.
Klosterhof restaurant opening hours
Breakfast from 7.30 - 11.00 am
Healthy Lunch Bowl Buffet & cake selection from 1:00-4:00 pm
GenussArt dinner menu: 6.30 - 8.00 (kitchen closes 9.30 pm)
Every Thursday: Bavarian Soulfood buffet dinner
Every sunny Thursday in summer: grill & chill BBQ buffet with head chef Sascha Förster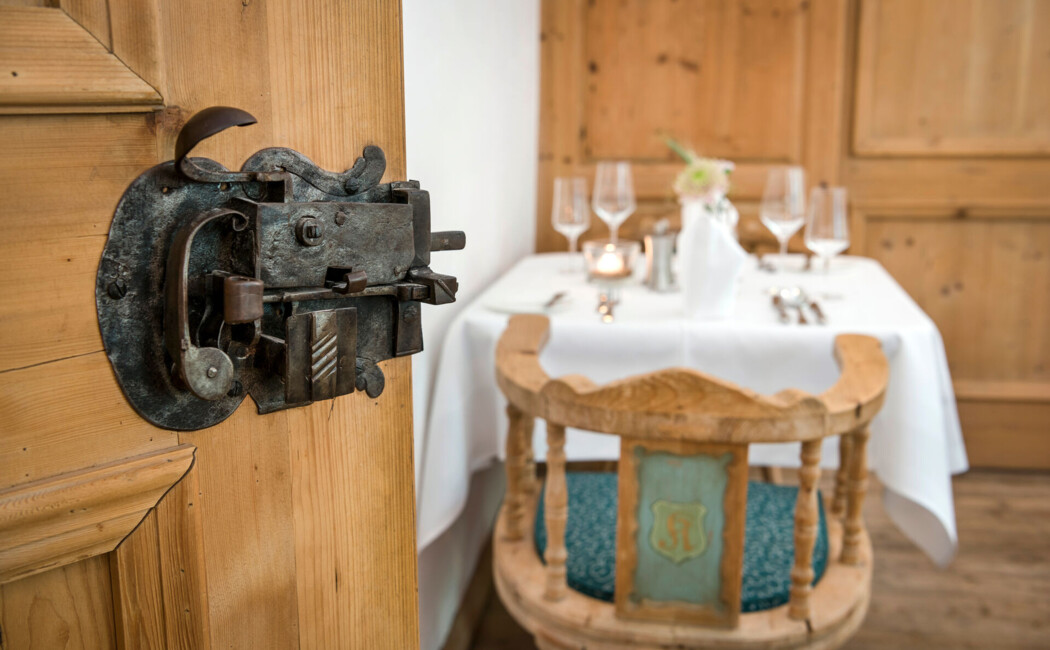 A culinary day in the Klosterhof
The Klosterhof enjoyment package is included for you
Creative - surprising - pure taste - that's how chef Sascha Förster presents his culinary experience at the Klosterhof.

International cuisine is modern and sometimes extravagant, well-known dishes are reinterpreted and refined with influences from star cuisine. Preserving what is good and yet conveying a sense of new beginnings - this is the credo that the Klosterhof lives by, creating a taste experience of the highest order.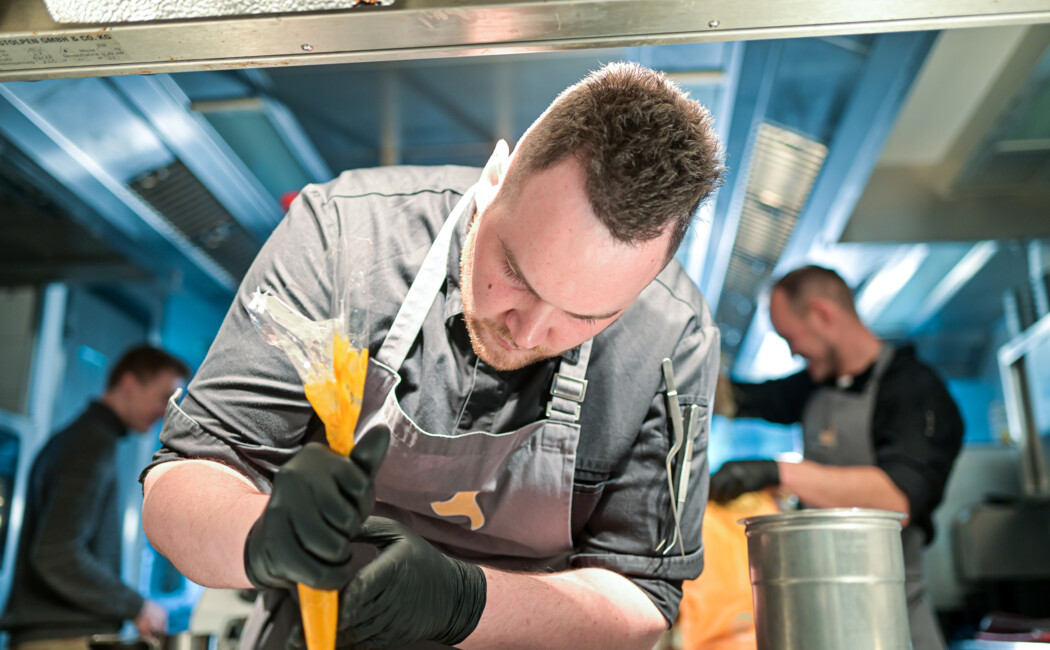 The GenussArt dinner menu
As part of our Klosterhof feel-good package, our head chef Sascha Förster together with sous chef Tobias Kittl and our great culinary-team are looking forward to spoil you with culinary delights!
After a varied day, you can dine in the evening in the GenussArt restaurant or in one of our traditional parlours.
Every day you can choose from three different menus:
CHEFS CHOICE for Adventurers & Jetsetters
BERGWIESE for lovers of local products
KRAUT & RÜBEN for plant-based lovers & explorers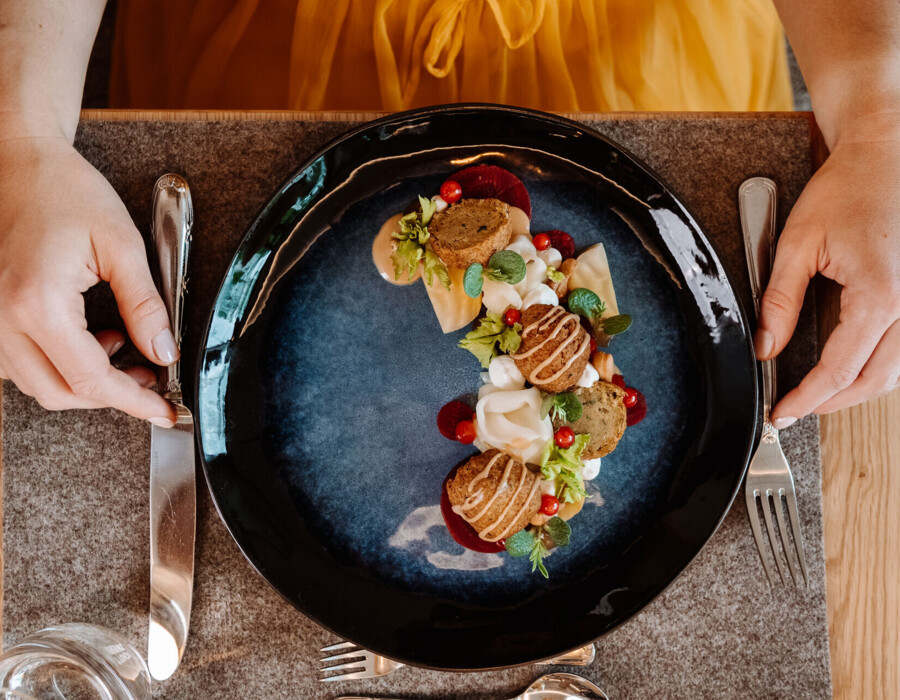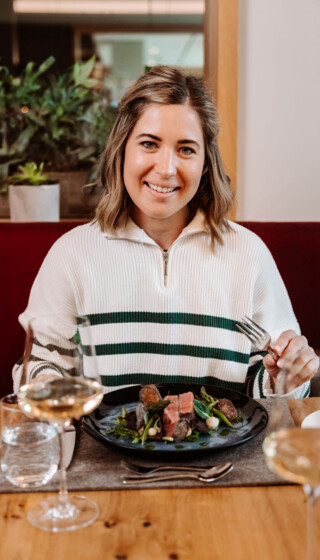 Fine Dining Experience "Secret Forest"
Every Saturday : Klosterhof's Gourmet Evening

At our Fine Dining Experience you will get to know the delicacies and creations of our chef Sascha Förster in a very special way: Over a multi-course gourmet menu in a private atmosphere.

Sascha Förster pays attention to absolute freshness and perfect quality when preparing his upscale creations. He attaches great importance to the fact that many of his ingredients come from our close surroundings, but just as important is the uniqueness of selected international treasures with surprise effects.

In the historic Zeno-Stuben, special cuts from the restaurant's own dry agers are served with specialities from the star cuisine. The highlight here is the exclusive ambience with a maximum of 12 people and the personal service of Sascha Förster.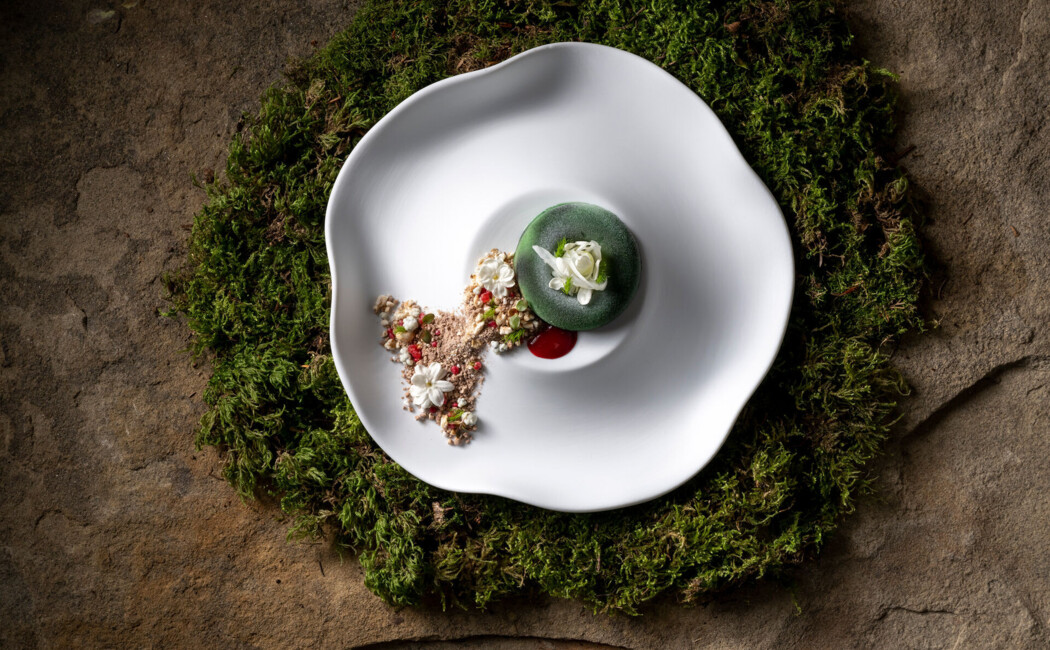 NEW: Bavarian Soulfood at hotel Klosterhof
Bavarian cuisine reinterpreted - from now on every Thursday as part of the GenussArt evening menu.

"Bavarian Soulfood" - that's Bavarian and regional "Feel Good" classics interpreted in a young & modern way. Together with Sascha Förster & our great team of chefs, Bavarian delicacies promise another highlight in the Klosterhof pleasure package every Thursday.

Look forward to very special evenings with Bavarian delicacies à la Klosterhof at the buffet and let our kitchen team inspire you personally at the live cooking station!

Our Bavarian Soulfood evening is included for hotel guests in the booked package every Thursday. External restaurant visitors are welcome to reserve their personal seat. We look forward to your reservation.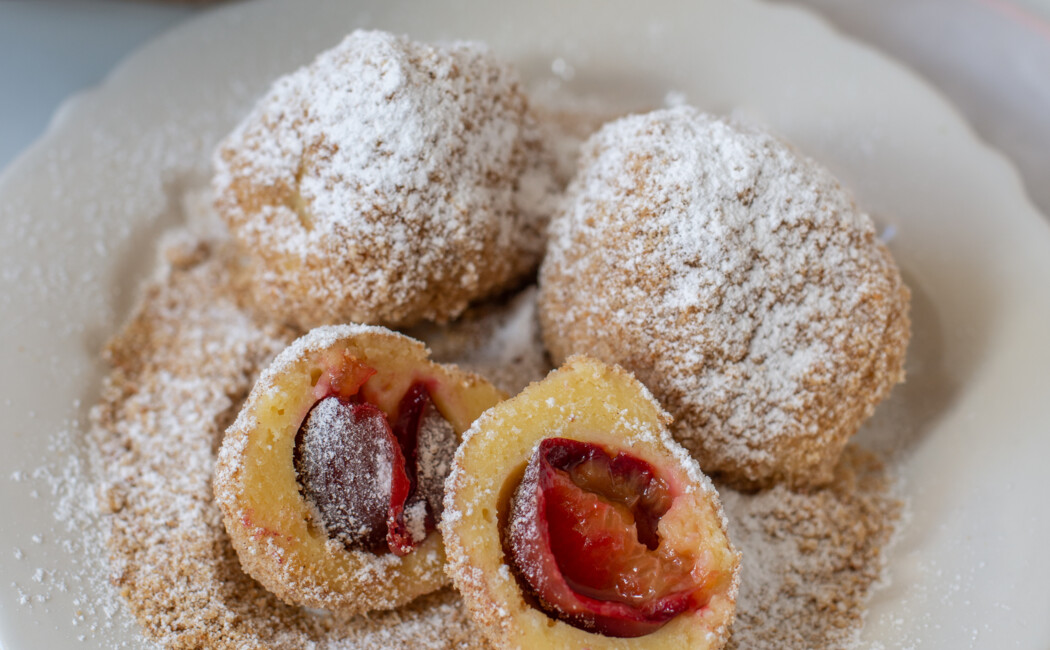 Alpine Fondue Evening at the Klosterhof
Every Tuesday and Wednesday: Alpine cheese fondue or fondue Chinoise

Wintertime is fondue time at the Klosterhof - look forward to another culinary highlight from the Klosterhof kitchen. A menu based around a traditional fondue will make hearts beat faster and offer variety during your feel-good holiday. For starters you get to induldge from our salad buffet, and for dessert you can enjoy the Bavarian classic "Kaiserschmarren".

An absolute must-try of alpine cuisine!

Experience a culinary evening in a relaxed atmosphere in the Bavarian Klosterhof-Stuben and let yourself be tempted by our fondue.

Alpine fondue evening menu Tuesday & Wednesday
Surcharge for hotel guests: 10 € p. p.
Due to the limited number of participants of max. 6 tables, we ask for timely registration.
Book a fondue evening now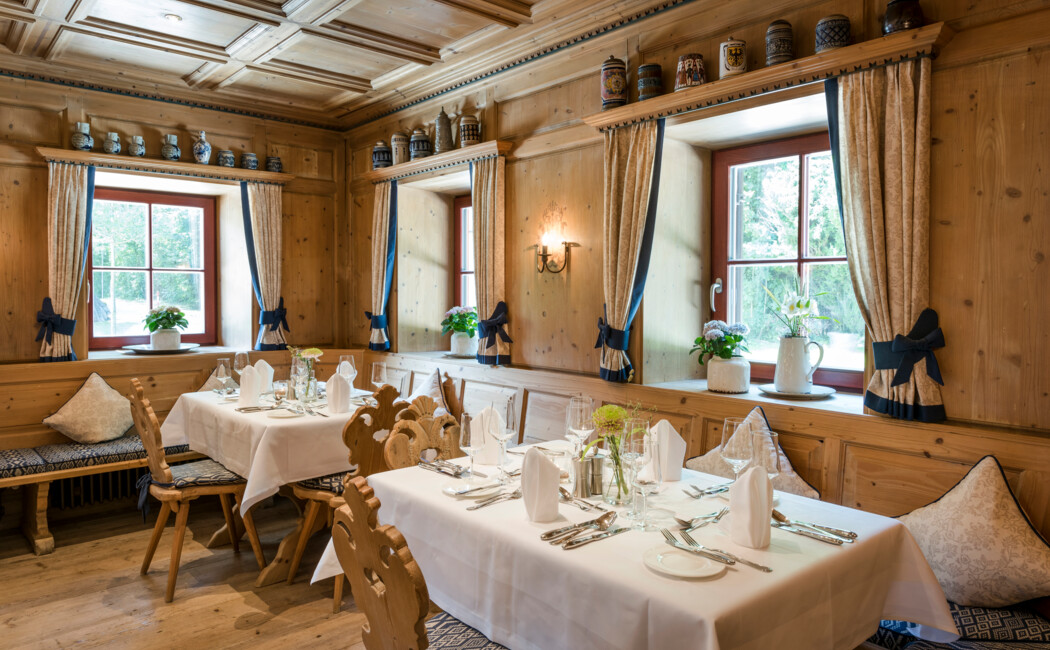 Pure indulgence with amazing variety: GenussArt at the Klosterhof
You'll be able to taste the passion and excitement for life in our spacious restaurant for special occasions in Bad Reichenhall. We offer wine pairings for our exquisite meals made with local ingredients. Great variety is always on the menu. Hotel guests can choose from a selection of dinner dishes as part of the Klosterhof amenities included in their stay. A salad bar with many tasty options, fine oils, healthy toppings and dressings prepare you for the multi-course feast ahead. You will always have fish, meat or vegetarian main dish options. And the cherry on top? Dessert of course! Look forward to sweet treats and cheeses.
In summer, our GenussArt dinner package includes the Klosterhof barbecue evening with your hosts. A live cooking station and delicacies from the smoker await you every Friday on the terrace!
We welcome non-hotel guests too
Perhaps you're not staying overnight, but would like to treat yourself to a special meal at the Klosterhof? No problem: you are always welcome to book a table or enjoy cocktails and drinks at the bar – all you have to do is let us know when you'd like to come!
Opening hours for non-hotel guests:
Breakfast: 7:30-11:00 am
Evenings: 6:00-10:00 pm
BarBarossa: 12:00 pm to late, depending on events
Please note: we regret that we cannot serve non-hotel guests at the moment due to current hygiene guidelines and the limited number of seats available. (Updated: June 2021)
Book your table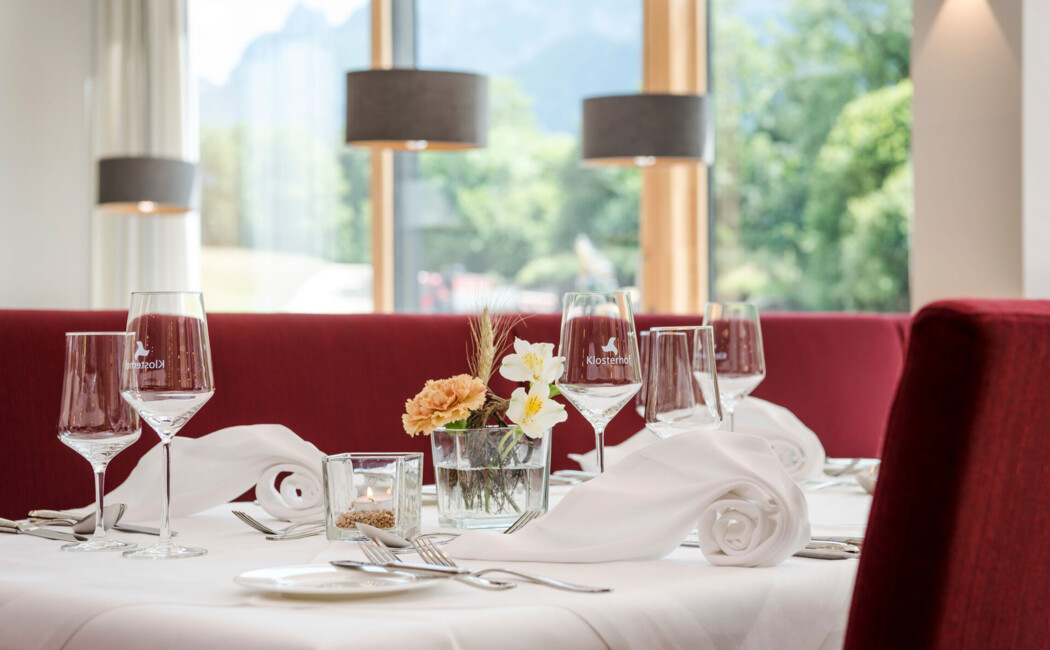 The Klosterhof garden: al fresco dining on the terrace
Just picture it: warm rays of sun on your face. A picture-perfect white and blue sky over Berchtesgadener Land. The mountains so close you can practically touch them. All this whilst you enjoy a piece of sinfully good homemade cake with a breath-taking view of the Lattengebirge mountains. If you are looking for a restaurant with sunny outdoor seating in Bad Reichenhall or Bayerisch Gmain, the Klosterhof garden is just the place. On your next visit to Bayerisch Gmain, stop by the Klosterhof's beer garden and spend a mild summer evening with a cocktail on the Klosterhof terrace. Enjoy life's little luxuries!
Packages at Hotel Klosterhof
Klosterhof holiday packages