Just Dive In!
Your exclusive hotel with pool in Berchtesgadener Land
Water is the source of all life. We feel good in water – the body is light and everyday stress forgotten. The Berchtesgaden Alps tower before your eyes. How lovely that our spa hotel with heated outdoor pool has something for all four seasons! How about a few laps in our indoor pool with a fire blazing in the fireplace? Or what about experiencing how it feels to be weightless in the Alpine Soledom floating pool? The heated outdoor pool is perfect in summer or winter. Just add water to experience excitement and passion at the Klosterhof.
Swimming pools at the Klosterhof
Indoor pool with fireplace lounge
Alpine Soledom floating pool with 15% alpine brine, 35°C
Year-round panorama outdoor whirlpool
Plenty of lounge chairs inside and outside to relax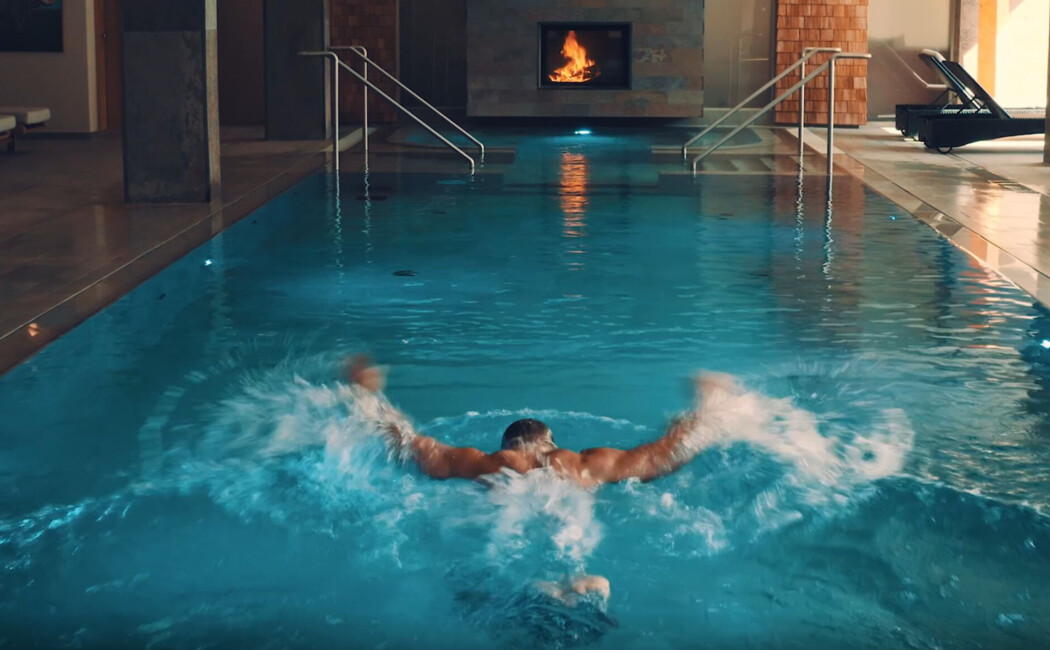 The indoor pool at the Klosterhof
There is plenty of room to relax in the water in our 1,500 m2 spa. The water gently laps in the 16.5-metre-long pool with a crackling open fire in the fireplace – a unique symbiosis of the elements. Just behind you'll find our fireplace lounge. In fact, you can gaze at the blazing fire in the fireplace and see the stars in the sky at the same time! At the Klosterhof, you will notice inspiring moments practically everywhere you go. We offer moonlight swimming every first Friday of the month from 9:30 pm to 12:30 am. Treat yourself to some time to yourself with peace and relaxation in the mountains.
Relax at our spa hotel with heated outdoor pool
After relaxing in our heated outdoor pool with water jets, we recommend you get comfy on a lounge chair, sip a cool drink and simply enjoy being at the Klosterhof Alpine Hideaway & Spa in Bayerisch Gmain. From our panorama jacuzzi, you'll have great views of the "sleeping witch" and Predigtstuhl mountain – the Lattengebirge mountains are so close you can practically reach out and touch them! Our secluded location nestled in pristine nature is also favoured by deer, which can often be seen in the thickets around the Klosterhof. Enjoy the absolute peace and quiet here!