Blissful Moments in the Artemacur Spa
The art of pampering in a hotel with spa treatments
At the Klosterhof Alpine Hideaway & Spa, we give our all to make your holiday a time just for you. Salt and enriching oils on your skin, soothing massages from head to toe – and excellent cosmetics and facials for healthy, glowing skin. You will love the atmosphere in the Artemacur Spa – a place for your own personal spa day. Take a break from everyday life at the Klosterhof.
Your spa holiday: an overview of our treatments
Place your trust in the gentle, experienced hands of the Artemacur Spa team. First-class training in cosmetics and spa treatments are a given here. Look forward to superb, top-quality treatments.
We would be happy to give you individual advice and answer any questions relating to our spa offer. For appointments and advice, please contact spa@klosterhof.de directly.
Get in touch!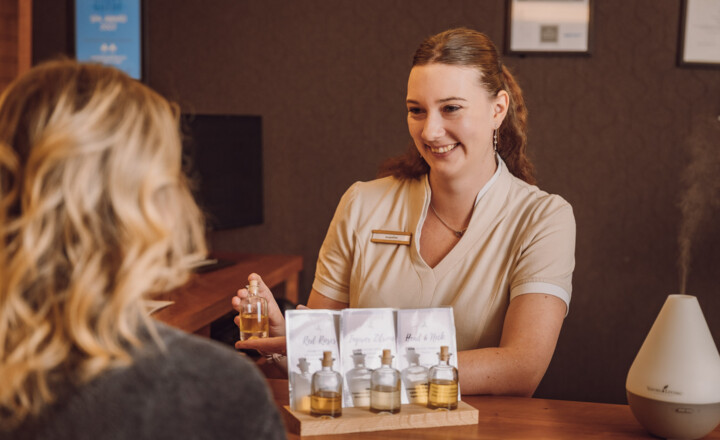 Signature Treatments
Only at the Artemacur Spa
Massages at the Spa Hotel for your well-being
Spa rituals & treatments für two
For lovers or with the best friend, for mother and daughter - there are many occasions for a couple's treatment
Togetherness
Enjoy a soothing back, neck and shoulder massage for two in our "Herzblatt" room.
50 min 152,–
80 min 202,–

Individual togetherness
Relax as a couple with massages tailored to your needs - with strong grips and stretches, or would you prefer gentle strokes for complete relaxation? We adapt to your wishes.
50 min 164,–
80 min 216,–

White gold for two
Revitalising and skin-tightening salt peeling for two. The homemade salt peeling made from the white gold of our region regenerates your skin and leaves it feeling soft and smooth. Finally, relax together with a moisturising full body wrap.
50 min 150,–

Honeymoon Ceremony
Enjoy a wellness journey together at the Artemacur Spa. Start with a joint body scrub followed by a 50-minute full body massage. The finale is the 25-minute weightless floating in our Alpine Soledom.
110 min 289,–

Us - redefined
Give yourself valuable time together and feel your partner anew. Under the guidance therapist, you will learn how to massage each other (60 min) followed by relaxation time just for you personally.
80 min 169,–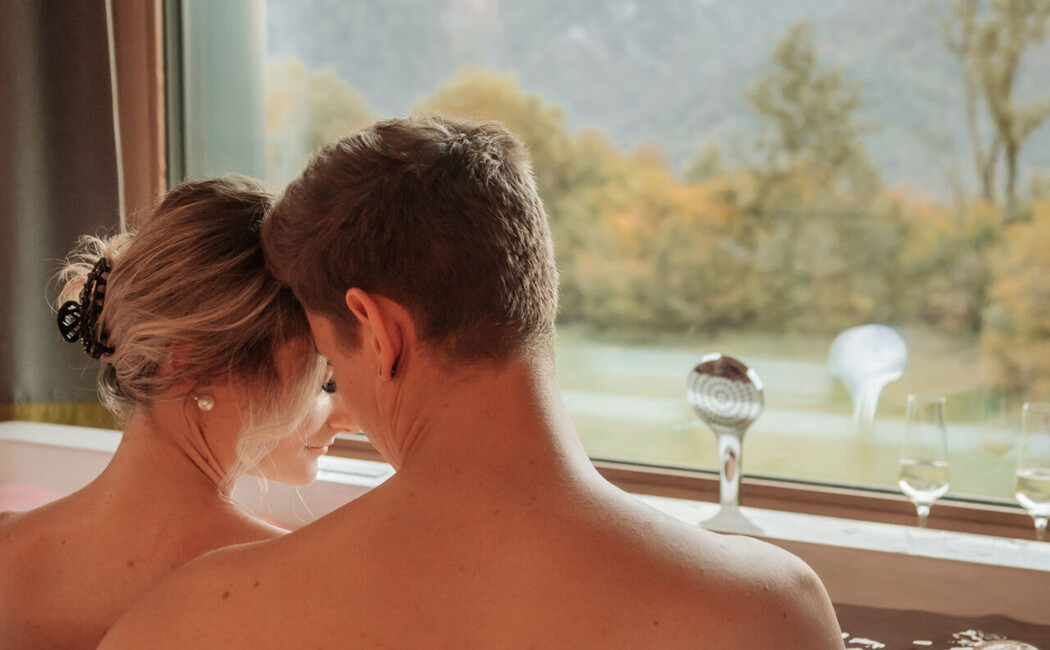 Spa treatments for parents-to-be
Babymoon and wellness during pregnancy
Babymoon Massage - Gentle pregnancy massage
Our pregnancy massage takes place on a special massage chair for pregnant wome or in a sideways lying position.
25 min 48,–
back - neck - shoulder or leg massage
50 min 84,–
Full body massage (without feet and lower back)
Babymoon Facial
For this pampering beauty treatment for expectant mothers, we work with nature-certified cosmetics, which are both gentle and nurturing at the same time. With moisturising masks and massage creams, your skin will radiate a new glow.
50 min 84,–
Babymoon - quality time for mothers-to-be
50 minutes facial treatment incl. eyebrow and eyelash tinting, pedicure or manicure
100 min 178,–
Lymphatic drainage for expectant mothers
Lymphatic drainage relieves congestion and swelling activates the lymphatic system. This provides a pleasant, relaxing feeling - ideal for tired muscles and for regeneration. A blessing during pregnancy!
50 min 80,–

Babymoon Lymphatic Drainage Deluxe
30 minutes lymphatic drainage for the face, 50 minutes lymphatic drainage for the body
80 min 128,–

Babymoon Me-Time
50 minutes peeling & pack, 30 minutes express facial & 25 minutes eye treatment
105 min 169,–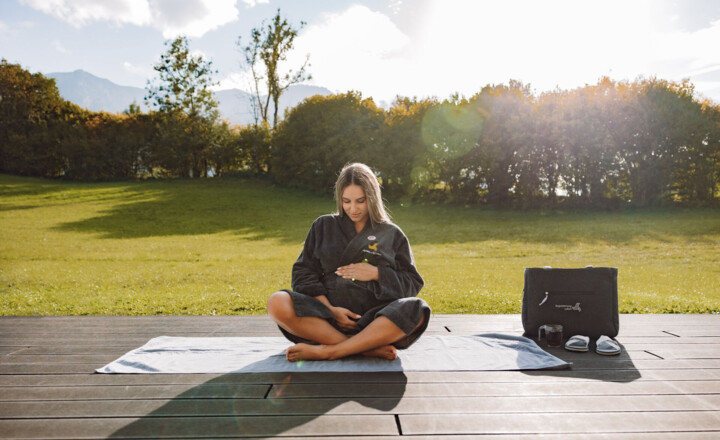 Body treatments & peelings
Fresh energy and recharge your batteries
Alpine Fango Detox Body Pack
A "wellness must" for lovers of Alpine tradition. Detoxifying alpine mineral pack for an invigorating skin feeling. Alpine fango not only improves circulation, but also stimulates the metabolism..
50 min 56,–

Cream aroma full body peeling
Enjoy pure relaxation and decelerate your mind and body with our gentle cream aroma full body peeling.
50 min 56,–

Salt scrub
Bad Reichenhall salt has been known for its healing properties for centuries. As a salt peeling, it promotes blood circulation and improves the appearance of the skin. In addition to the caring and cleansing effect, the regional peeling helps you to relax.
50 min 56,–

Artemacur Salt + Gentle Bodypackage
The revitalising and skin-tightening salt peeling regenerates your skin and leaves it feeling delicately soft. Afterwards, the moisturising full body pack rounds off the full body treatment.
50 min 79,–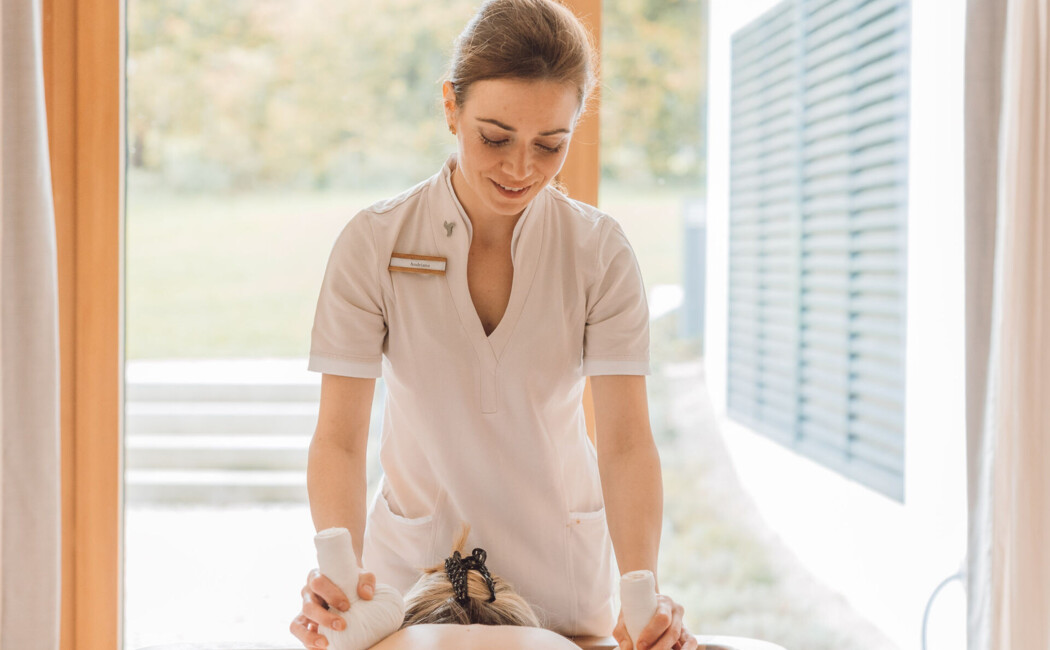 Hamam ceremony
The Klosterhof is your hotel with hamam
immerse yourself in the oriental world of the hamam, enjoy the soothing warmth and let your body and mind relax in the gentle light.

Hamam Suite
Peeling, soap foam wash
30 min 68,–

Hamam Suite Deluxe
Peeling, soap foam wash
50 min 106,–

Salt peeling on the hamam stone
Enjoy a cleansing full-body salt scrub on our warm hamam stone.
30 min 56,–

Hamam from head to toe
Complete relaxation from head to toe. You start with a pleasant salt footbath and then relax with a soothing healing earth facial massage on our pre-warmed hamam stone.
40 min 62,-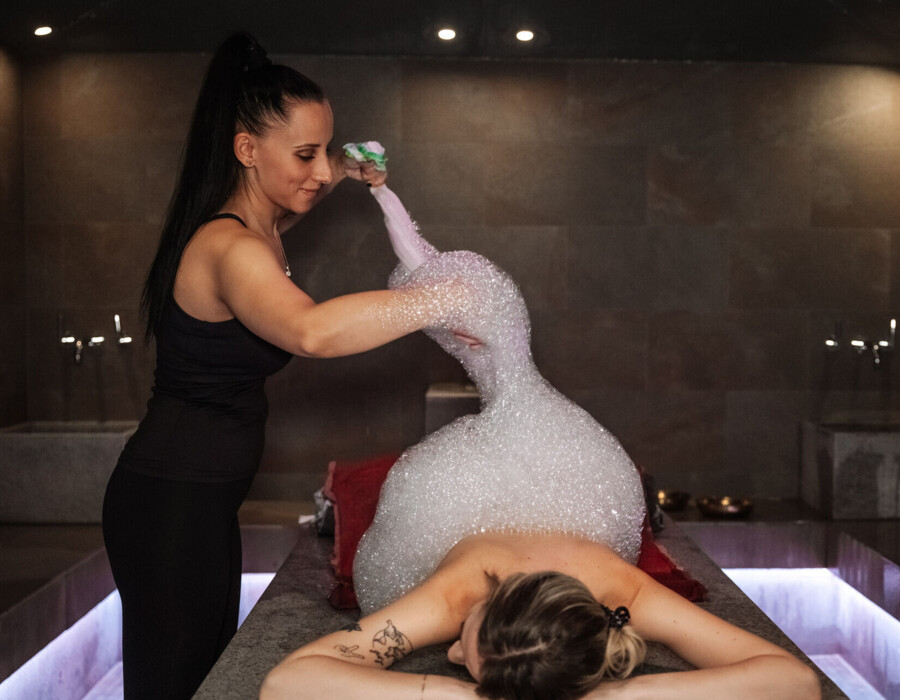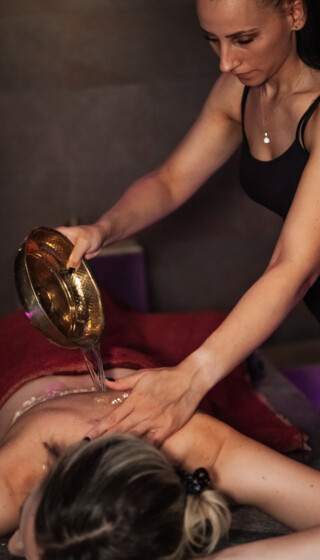 Spa treatments for athletes & mountaineers
Sports massages & more
Sports and fascia massage
Deep massage to relax the muscles and activate the circulation
50 min 89,–
80 min 114,–

Activating foot and leg massage
Ideal for tension, swelling and pressure pains caused by high stress on the legs and feet.
25 min 48,–
50 min 80,–

Intensive back massage
An intensive and deep back massage for tense sportsman's muscles. We use the forearm and elbow to loosen the tense back muscles.
25 min 56,–
50 min 85,–

Pain therapy according to Liebscher & Bracht (osteopressure)
In pain therapy according to Liebscher & Bracht, tensions in muscles and fascia are released by pressing, rolling and stretching.
60 min 130,–

Bamboo massage
Deep-lying muscle hardening and tissue tension are loosened with bamboo sticks. Blood circulation is promoted with activating movements and the regeneration process is thus accelerated.
50 min 92,–
80 min 118,–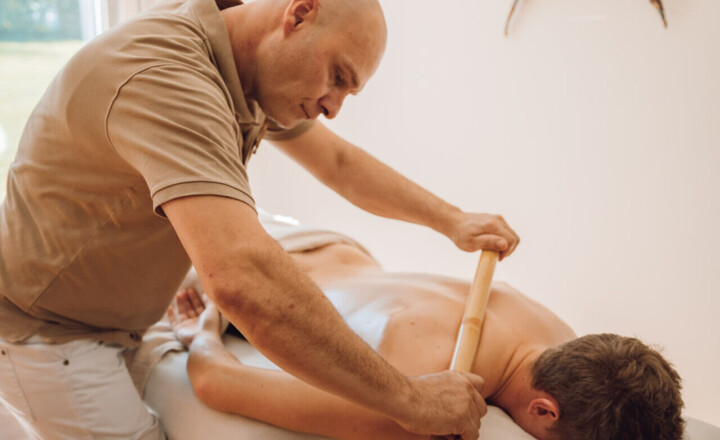 Manicure & Pedicure
perfect hands & feet
Facials for a radiant complexion & cosmetics
Enjoy beauty with Trawenmoor Organic Skincare & Ebenholz Skin Care
The long experienced cosmetics and beauty team in our spa has clearly decided which brands are allowed to the skin of the guests.
Trawenmoor - Organic Skincare
As a regional company, Trawenmoor stands for more than first-class organic quality and combines those principles that are also very important for our spa concept:
organic - at least 98% of the ingredients in the products are of natural origin
vegan - no animal ingredients or genetic engineering are used in the production process
climate-neutral - all CO2 emissions are offset by recognized climate protection projects
Ebenholz Skincare: Pure men's business
Fresh, healthy-looking skin not only makes you beautiful, it leaves a lasting impression. The development of all EBENHOLZ care products is based on this simple insight. Five highly effective, natural "Skincare Tools" are tailored to the special needs of men's skin and restore its fresh appearance.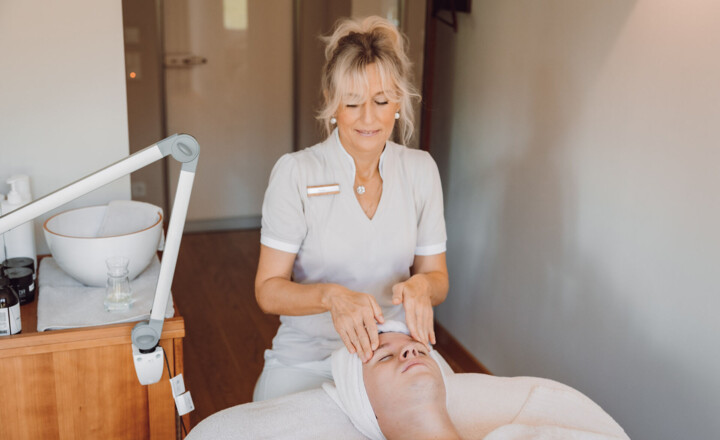 Beautiful Moments & Make-Up
Eyes, Lashes, Waxing & Make-Up
Sparkling eyes
lymph drainage - active ingredient serum - nourishing eye pack - eye care
25 min 45,–
(can be booked individually or as an add-on to a facial treatment)

Eyebrow shaping 20,-
Eyebrow tinting 15,-
Eyelash tinting 20,-
The complete programme 54,-

"Lash Lifting" - lash wave
We conjure up fresh momentum for your lashes and take care of your breathtaking eye look.
30 min 54,–
Beautiful moments : for the windows of your soul
Enjoy the complete package and relax with eyebrow and eyelash tinting, eyebrow correction and eyelash curling. Complete eye programme + Lash Lifting
45 min 99,–

Depilation - Hair-free with waxing
Upper lip 14,–
Legs up to the knee 38,–
Legs complete 58,–
Back or chest 38,–
Armpits or bikini line 28,–
Brazilian Wax 48,–

The perfect performance & entrance
Light day make-up 27,–
Make-up for the evening 45,–
Bridal / Gala Make-up 110,–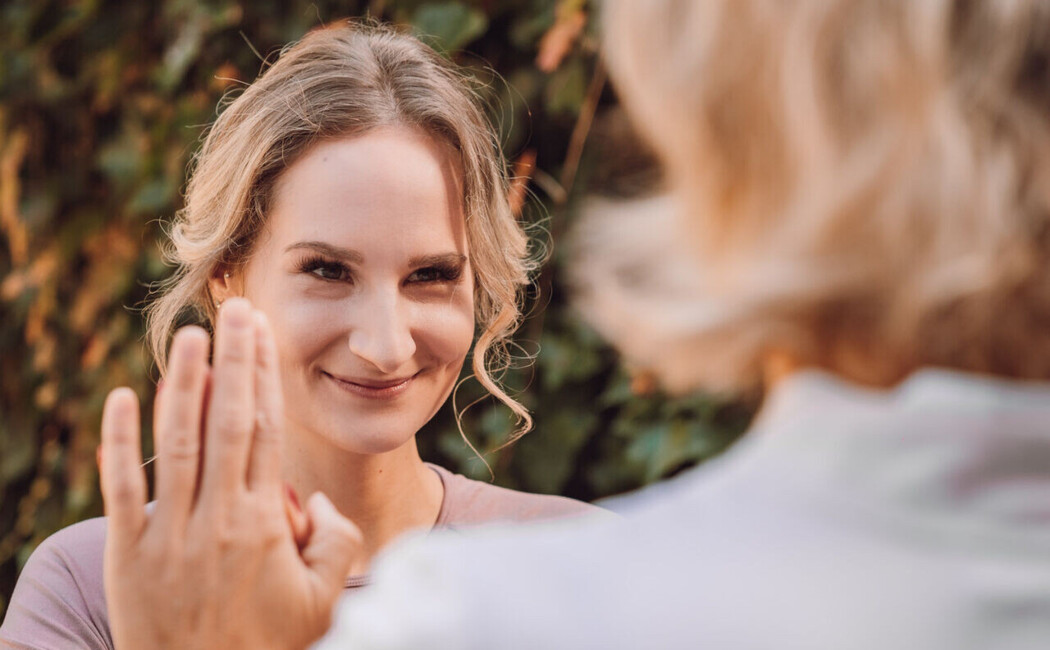 At one with nature. At one with yourself. That is the beauty of the Artemacur Spa.