Outdoor Fun on Two Wheels
Explore Berchtesgadener Land by bike or e-bike
A cycling paradise awaits you at the Klosterhof Alpine Hideaway & Spa. The experience of being in the Alps is wonderful on a bike. Looking to take things a bit easier? Hire an e-bike at reception. Excitement and passion for life can also be felt on bike tours. But the Klosterhof is more than just a hotel with e-bike hire in Bad Reichenhall: let us pamper you with four-star superior luxury, delicious food and drink and relaxation after your bike tour.
Highlights of a cycling holiday at the Klosterhof
Marked mountain bike trails
Circular trail around the Klosterhof
Bike & e-bike hire in Bad Reichenhall / Bayerisch Gmain
Bike rental station at the Hotel Klosterhof for hotel guests
Upon request: guided bike tours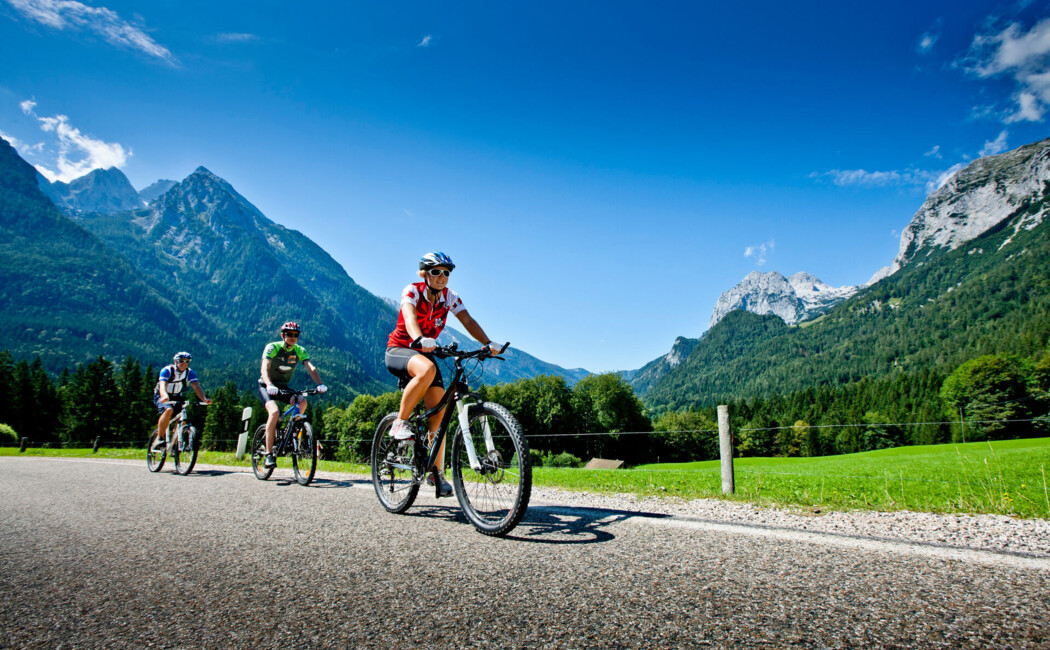 Hotel with e-bike hire
Exclusive e-bike service for hotel guests
It's easy to explore Berchtesgadener Land on e-bikes starting right at the hotel. The Klosterhof is one of the Movelo hire stations in Bad Reichenhall and Bayerisch Gmain. "We have both city e-bikes and mountain e-bikes for our guests to use," explains our sauna master and mountain fan Schorsch, who is happy to share some of his personal tips for a leisurely bike tour in Berchtesgadener Land. Why not ask him whilst you're relaxing in our spa and wellness area?
Bike tours around the Klosterhof
The Untersberg round: a border-crossing tour
Starting at the Klosterhof, ride uphill to Hallthurn. As soon as you reach the plateau, continue on the state road towards Berchtesgaden via Winkel and Bischofswiesen. You will already be able to see the Watzmann and Hagen mountains that surround Lake Königssee. Follow the German High Alpine Road to Berchtesgaden. From there the path runs steadily slightly downhill along the beautiful Königsseer Ache river, through Marktschellenberg to St Leonhard. Here you will find yourself in Austria! Continue through Glanegg towards Fürstenbrunn. Then the steepest section of the route begins at the end of Fürstenbrunn village as you ride over the so-called "Wachterl" with its incline of up to 14%. After several ascents and some descents you will reach Großgmain. Continue through Bayerisch Gmain until you reach the Klosterhof.

Distance: 46 km
Elevation gain: 660 m
Mountain bike to the Steiner Alm alp
Cycle from Bayerisch Gmain towards Bad Reichenhall and from there on to the climatic resort town of Piding. The "Rund um den Högl" ("Around the Högl") trail runs steadily uphill to the Steiner Alm alp. The path along the Frillensee lake leads to the Adlgaß restaurant. Here you can fill up on tasty food for the ascent to the Inzeller Höhe and the Fürmannalm alp. From here, you continue down to Anger and through Piding and Bad Reichenhall back to the Klosterhof.
Distance: 37 km
Ascent: 910 m
Exercise keeps the body, mind and soul healthy. Biking is the perfect way to enjoy our incredible mountains. Need some tips for a special bike tour in my hometown? Just ask – I'll be happy to help!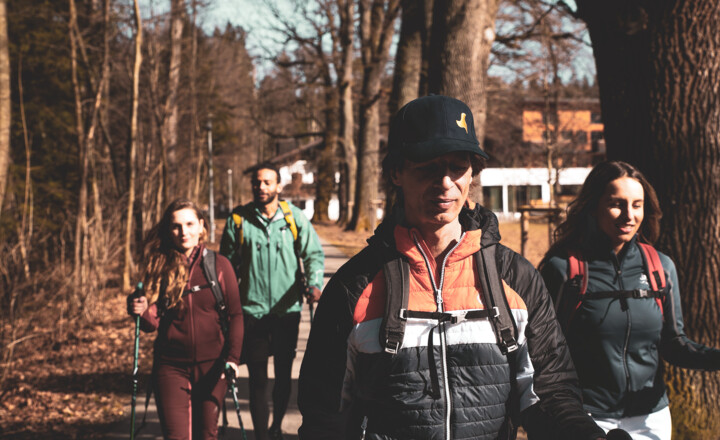 Klosterhof holiday packages