Indulgent Breakfast at the Klosterhof
Breakfast in Bad Reichenhall: wake up with a Klosterhof breakfast
Your day here begins with lots of treats: breakfast is served from 7:30-11:00 am in the GenussArt restaurant. Take a seat and enjoy your meal: on the terrace in summer, or in the stylish and quiet atmosphere of our four-star superior hotel in winter. Classical music will fill your ears, and breath-taking views of the mountains will always be your breakfast companion. Have a lovely start to your day with the great variety of dishes you'll find in our breakfast buffet. This is quite a special breakfast for hotel guests and locals alike.
Hotel Klosterhof breakfast
Breakfast in Bayerisch Gmain near Bad Reichenhall is a real pleasure! At the Klosterhof, we promise a truly special breakfast experience. Hotel guests, locals and non-overnight guests, as well as day spa visitors, love our excellent selection of breakfast treats. But don't be blinded by the sheer variety – it's important to know that everything is really and truly made with love. Local, just for you. The Klosterhof breakfast is included for hotel guests who book directly with us.
Start a day full of enthusiasm at the Klosterhof with:
Coffee and tea specialities from the Julius Meinl roasting company
Fruit juices & daily changing smoothies
Unlimited Prosecco for a sparkling start to the day
High-quality organic (Demeter) baked goods and bread rolls from the "Bäckerbrüder" Berchtesgaden bakers
Farmer's bread, Bavarian pretzels and croissants
Gluten-free bread & gluten-free muesli
Cakes & Danish pastries
Organic muesli, nuts & grains
Selection of jams incl. homemade fruit spread of the season
Honey from the Berchtesgaden region
Mountain farmer yoghurt & curd cheese
Berchtesgadener Land milk & dairy products
Organic goat cheese & yoghurt from Attl's Bioziegenhof
Vegan corner with hummus & vegetable spreads
Soy yoghurt & plant milk
Free-range eggs from Mühlhauser Hof
Seasonal fruit and crunchy vegetables
Fresh herbs for self-harvesting from the "green wall
Fish specialities from the Karlsteiner fish farm
Meat & sausages from the Ott butcher's shop
Daily "Special of the day" - from Egg Benedict to Pancakes to Bavarian Weißwürstel, every day we tempt you with another delightful highlight!
For special occasions or cosy days in bed, we naturally also offer our gourmet breakfast as room service.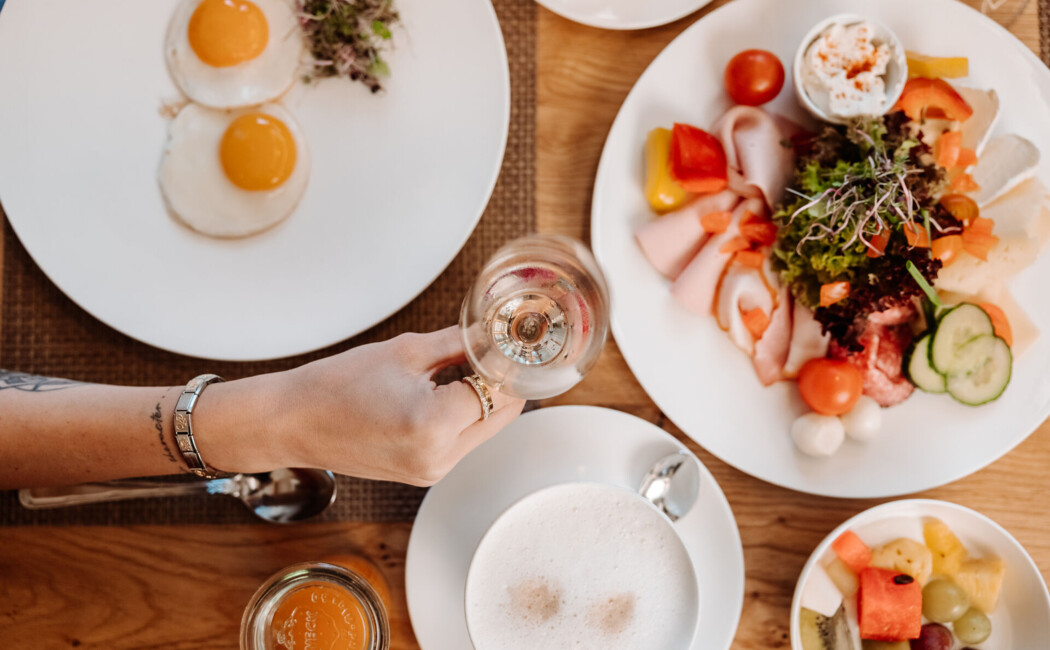 Non-overnight guests are warmly welcome
Would you like to enjoy the peace and quiet of an easy-going breakfast in Bad Reichenhall? We are happy to welcome day guests for breakfast at the Klosterhof in Bayerisch Gmain (€ 25 per person). Please reserve your table in advance!
Reserve a table
We look forward to treating you to a delicious start to your day!