A Secluded, Idyllic Hotel and Spa
Excitement has a name: the Klosterhof Alpine Hideaway & Spa
Nestled in the pristine nature of Bayerisch Gmain in Bavaria's beautiful Berchtesgadener Land, just a short hop from the legendary festival city of Salzburg, awaits your holiday accommodation that exceeds even the highest standards. Find the peace and quiet you deserve at our four-star superior spa hotel thanks to our exclusive, secluded location in the Bavarian Alps. Breath-taking views accompany you throughout your stay. Our idyllic, quiet location is a dream, yet cultural highlights and plenty of activities are easy to reach. Treat yourself to all our region has to offer and to a stay at a spa hotel like no other.
Enjoy our exclusive secluded location in the heart of the Bavarian Alps!
Distances to our spa hotel in the Bavarian Alps
Munich: 135 km, approx. 1 hr 20 mins drive
City of Salzburg: 19 km, approx. 25 mins drive
You will find plenty of parking and an underground garage at the Hotel Klosterhof.
Location & directions
Your secluded hideaway hotel
Arriving by car:
GPS coordinates: 47.73001493041396, 12.89294958114624
Please enter Feuerwehrheimstr. No. 54 into your sat-nav, as the address Steilhofweg 19 cannot be found by many sat-nav systems.
Leave the A8 Munich-Salzburg at the Bad Reichenhall motorway junction. Continue on the B20, following the signs to Bad Reichenhall, continuing towards Berchtesgaden to Bayerisch Gmain. Just past the city sign, turn left at the first fork. From here you will see signs leading to the Klosterhof. On Schillerallee, take the second right (onto Am Hessing), and then another second right onto Feuerwehrheimstraße. Follow this road – after two 90° right curves it will become Steilhofweg. Continue on Steilhofweg until you reach the Klosterhof.
Arriving by public transport:
Trains arrive at Bayerisch Gmain station nearly every hour. We will be happy to organise transport to/from the hotel and Bayerisch Gmain station. Many train connections are then available from Freilassing station.
If you are coming to the hotel on foot from Bad Reichenhall, walk to the "Moltke Eiche" ("Moltke Oak") and follow the signs along the oak-lined avenue to the Klosterhof. It should take you less than 20 minutes.
Arriving by plane:
Salzburg Airport is just 15 km away, and Munich Airport is 170 km from the hotel.
Things to do on your holiday
Holiday activities and spa time in the Bavarian Alps
Spoil yourself in our spa
Get some R&R in the Bavarian Alps
Mountain activities in both summer and winter
Cross-country skiing in the Chiemgau region
Skiing in Salzburger Land and Berchtesgadener Land
Views of the Watzmann mountain
Treat yourself to time in the steam bath
Take in the breath-taking nature on bike rides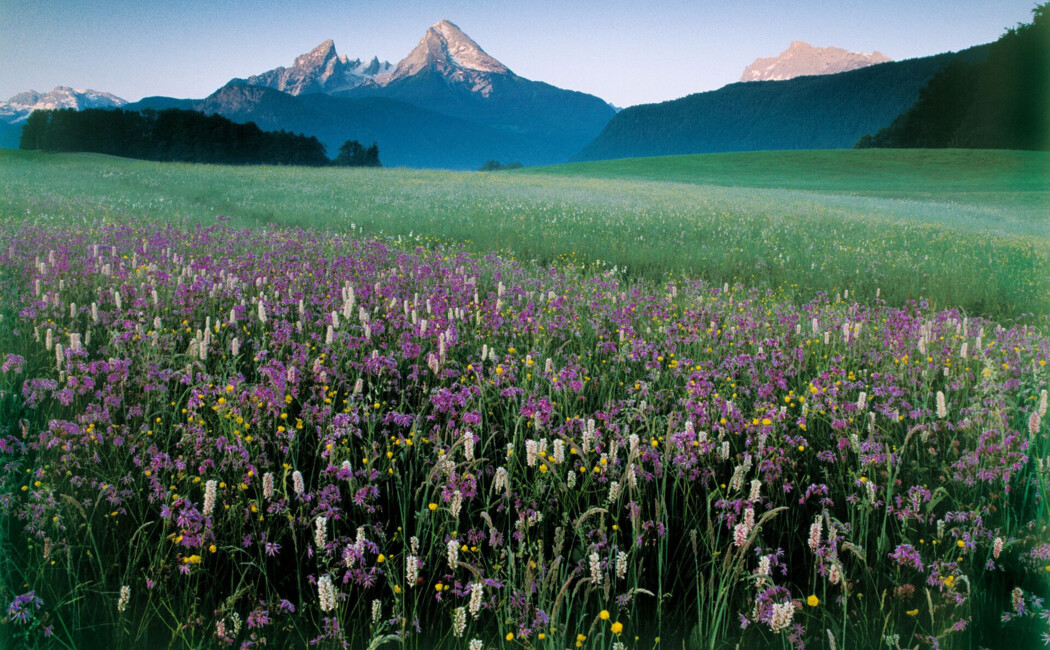 The Klosterhof represents excitement and passion. Your spa holiday with us in Bavaria starts with a delicious breakfast (beautiful views included!) followed by pure relaxation in our Artemacur Spa.