Sustainability at Hotel Klosterhof
Our concept
First hotel in Germany with the EU Ecolabel!
The sustainability concept of the well-known wellness hotel Klosterhof in Bayerisch Gmain combines ecological, economic and social aspects in a fully comprehensive approach. Our actions pursue the goal of continuously making sustainability a central element of our thinking. To this end, our employees, guests and suppliers are integrated and encouraged to act in a sustainable manner.

For our continuously developed and effective sustainability concept, we have been officially awarded the "European Eco Label" after the strictest specifications and a lengthy certification process, making us the first hotel in Germany with this EU-wide recognised certification.
Ecological sustainability
About the building
Already during the construction of our hotel, ecological aspects became a central requirement.
The location in a hollow and the almost complete cladding of the house with larch shingles together with the intensive greening of the roof ensure a harmonious integration of the house into the natural landscape of the Berchtesgadener Land.
In addition, we focused on energy efficiency from the very beginning. The construction planning and execution made it possible to obtain financing through a loan for energy-efficient construction from the KfW. The highly effective thermal insulation and high-quality triple glazing contributed to this.
to the history of the Klosterhof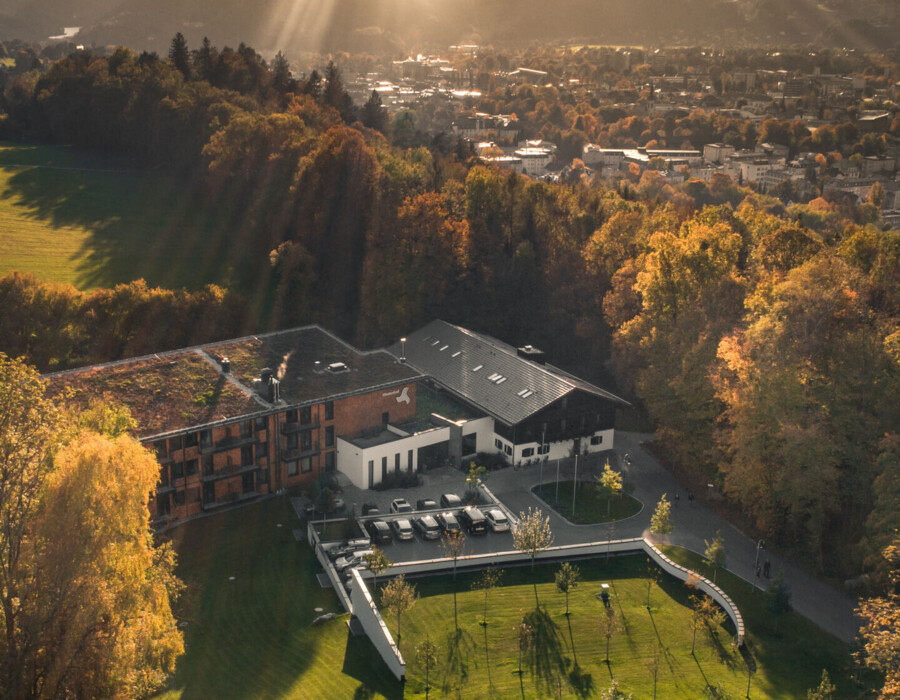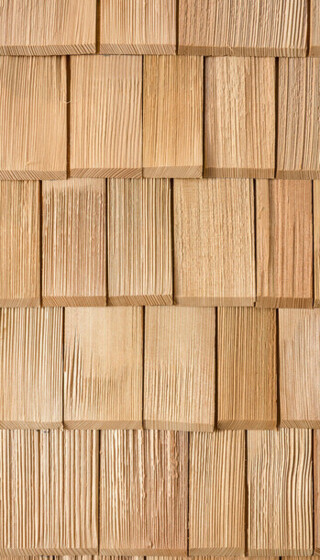 "Green Choice" for a good cause
The Klosterhof has also come up with a special sustainable concept for direct communication with hotel guests. During their stay, guests have the opportunity to do without fresh towels & Co. for a day. For each waiver, € 5 is donated to the mountain rescue service in Bad Reichenhall. In this way, the Klosterhof not only does good for the environment, but also saves energy costs and supports regional helpers.
since the reopening after the Corona Lockdown 2021, a five-digit sum has already been donated to the mountain rescue service.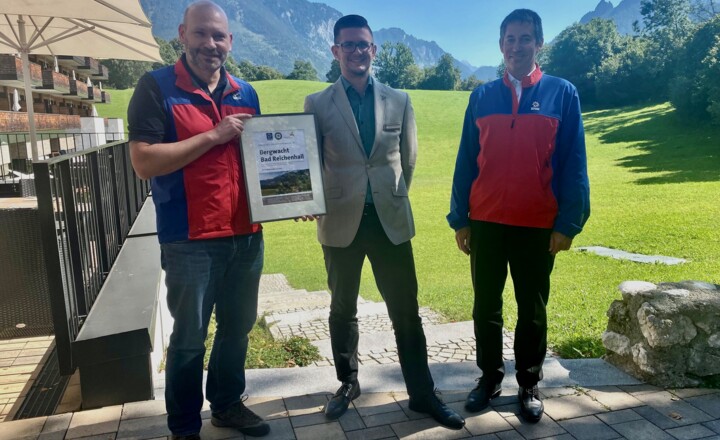 E-Mobility and green arrival

2021, the sustainable Hotel Klosterhof has developed a new, fully comprehensive e-mobility concept. In addition to a corresponding charging structure, vehicles and bicycles with electric motors are provided for guests and employees. Even the hotel's own vehicle fleet has been converted to electric vehicles.

In addition to e-bikes, e-smarts are also made available to guests on request in an uncomplicated and environmentally friendly way. Together with the corresponding information materials and planning support from the reservations team, sustainable forms of travel by bus and train or also by bike or on foot are thus supported.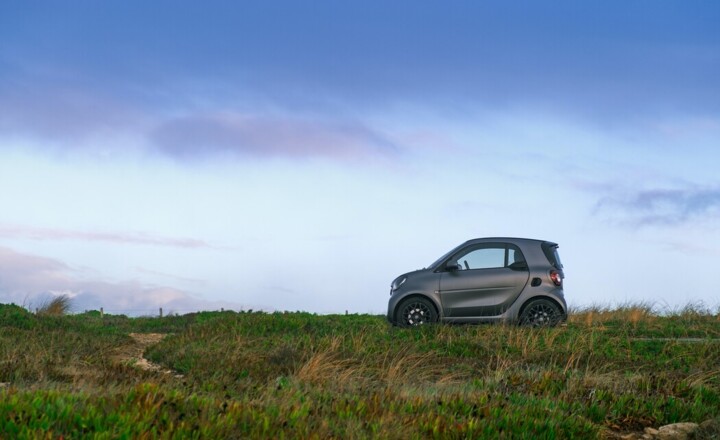 Water consumption at Klosterhof
Reichenhall's drinking water meets the highest standards and has a unique, healthy mineral composition.

Through flow limiters and other technical devices, as well as modern swimming pool technology, water consumption at the Klosterhof is kept to a minimum and ensures an extra portion of sustainability.
To the water world at the Artemacur Spa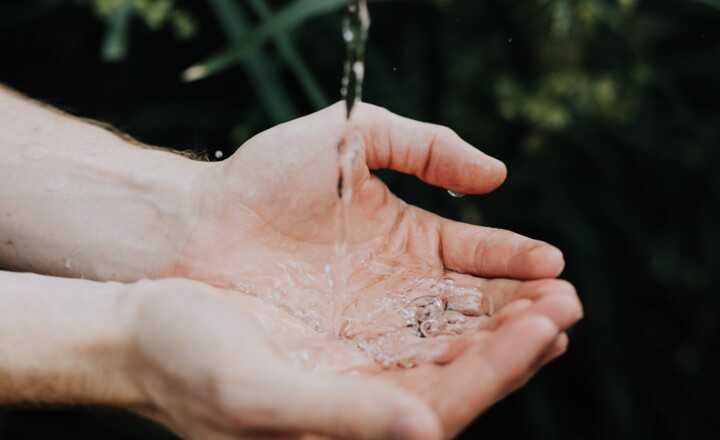 Waste prevention and recycling
The first priority is to avoid waste. Even in Corona times, we have dispensed with disposable packaging and served single portions, such as the homemade jams, in glass. In housekeeping, we have switched to own-brand products in dispensers and solid shower care.

Through regular staff training and continuous optimisation together with our suppliers regarding waste avoidance and recycling, we ensure sustainable implementation and set a positive example for a sustainable & environmentally conscious future.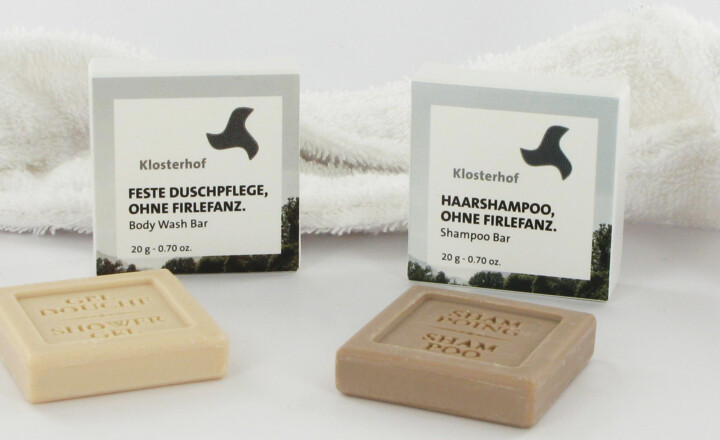 Natural cosmetics and regionality in the Artemacur Spa
In the Artemacur Spa, we want to continue our commitment to sustainability. That is why it is important to us to pay attention to regionality and naturalness here as well.

In addition to our unique salt massage bed, which is filled with regional Bad Reichenhall salt, our experienced cosmetics team works exclusively with natural products from Team Dr. Joseph Naturkosmetik and Ebenholz Skincare.
Our Spa treatments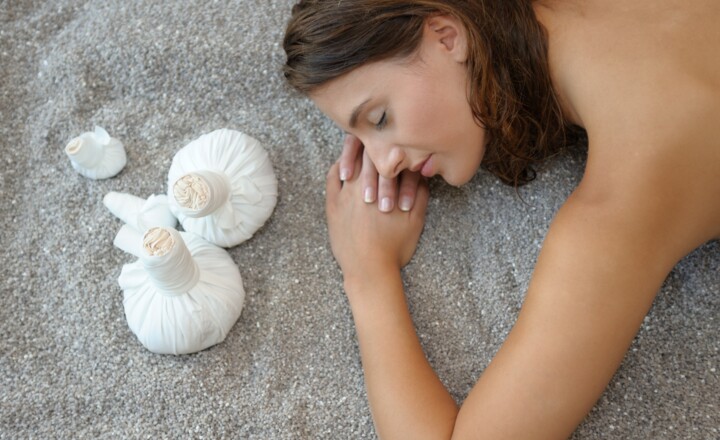 Economic sustanibility
The Klosterhof is now one of the best-known and most successful wellness hotels in Bavaria and beyond.

We ensure our long-term success through the constant further development of our offer and continuous investments in our house. In all projects, we pay attention to the best possible synergies with regard to the ecological, economic and social aspects of sustainability. We select our suppliers and cooperation partners very consciously and are very proud of our long-standing collaboration.
Our partnerships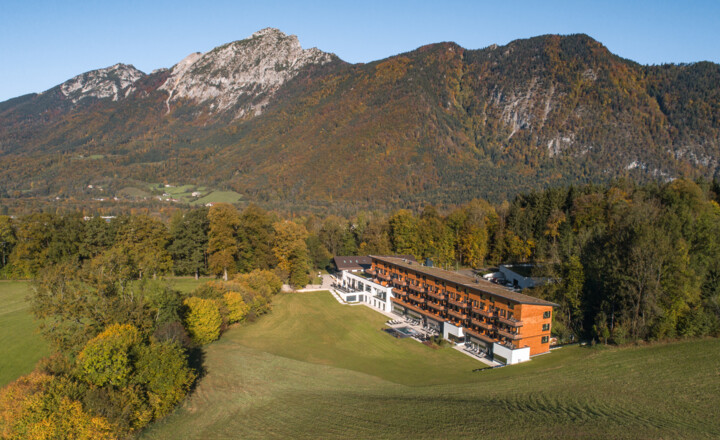 Social sustanibility
The Klosterhof features a specific personnel concept - honoured with the renowned Hospitality Awards. In the meantime, the hotel has over 100 jobs.
Our employees play an important role in the implementation of our actions. Therefore, long-term employment as well as the personal development of each individual are important to us, which is why we deliberately avoid seasonal workers. We always try to inspire young people for the Klosterhof and a career in the hotel industry.

Career at hotel Klosterhof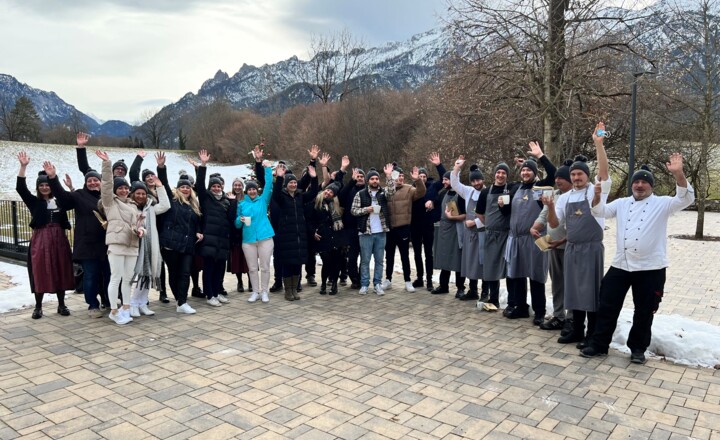 Bavarian Minister of Agriculture Michaela Kaniber congratulates us
Michaela Kaniber, Member of Parliament for the Berchtesgadener Land district, recently congratulated us personally on the award.

"The special thing about the EU Ecolabel is that it covers all areas of my ministry," said the Minister of State for Food, Agriculture and Forestry. The hotel restaurant relies on regional suppliers as well as seasonal products whenever possible. The most important building material is local wood. Energy efficiency plays a major role at the Klosterhof - as do ecological approaches such as the completely green roof or the hotel's purely electric vehicle fleet. "I am proud that we have such a model business in Berchtesgadener Land. Even more so in my home town."

On behalf of the Klosterhof family, we would like to thank you very much for your time and your personal congratulations, Michaela!
Learn more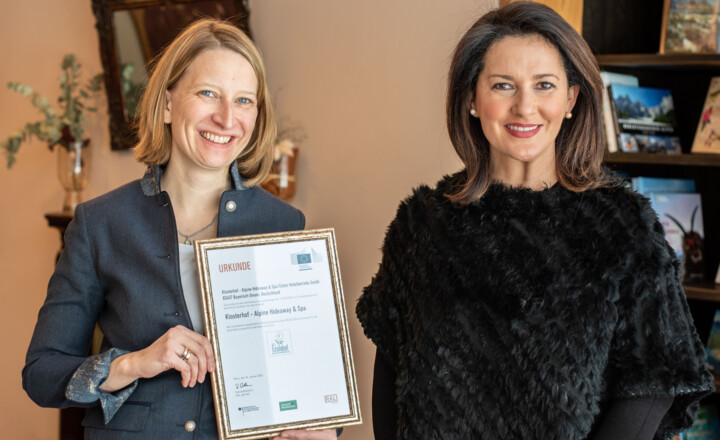 What is the European Eco-Label?
The EU eco-label is recognised in all Member States of the European Union, but also by Norway, Liechtenstein and Iceland.
Gradually, the voluntary label introduced by an EU regulation has become a reference for consumers who want to help protect the environment by buying greener products and services.
An excerpt of important criteria for the award of the EU Eco-label:
reduction of energy for heat generation
purchase of efficient air-conditioning units and energy-saving appliances
generating electricity from renewable energy sources
reduction of the total water consumption in the hotel's daily routine
optimisation of packaging materials with generous abandonment of single-use packaging
increase in the proportion of environmentally friendly chemicals and a significant reduction in chemical cleaning agents
use of eco-labelled paper
promotion of e-mobility with complete conversion to a hotel-owned e-car fleet
improving the on-site charging infrastructure with a total of ten charging points, including two fast-charging stations
enlargement of our own herb garden for use in food and beverages
conscious and continuous training of staff
Download the Klosterhof sustainability concept
"VeganWelcome" im Klosterhof: Vegan-freundliches Hotel
Wir sind begeistert, verkünden zu dürfen, dass wir seit Juli 2023 offiziell als "VeganWelcome"-zertifiziertes Hotel gelten.
Sowohl beim Frühstück als auch beim healthy Lunch Bowl-Buffet bieten wir eine Auswahl an pflanzlichen Alternativen an, um den individuellen Genusstypen jedes Gastes anzusprechen. Zudem haben wir unser GenussArt Abendmenü neu definiert und mit kreativen, rein pflanzlichen Gerichten erweitert.
Mit der Erweiterung unseres kulinarischen Angebots wollen wir einen zusätzlichen Beitrag zum gesunden und ethisch verantwortungsvollen Lebensstil leisten.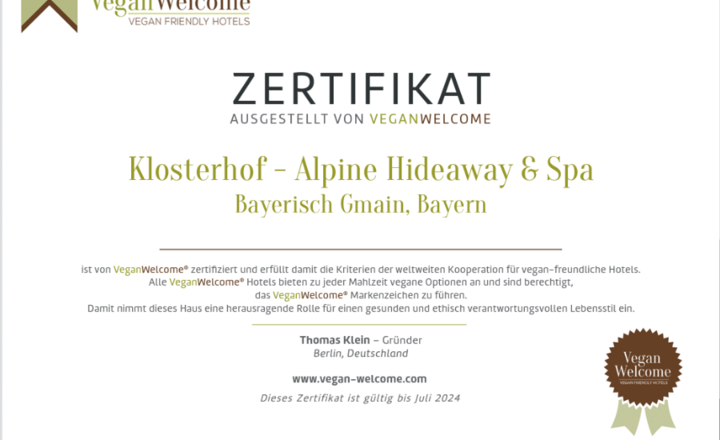 Was ist das EU Ecolabel?
Das European Ecolabel ist das in allen Mitgliedstaaten der Europäischen Union, aber auch von Norwegen, Liechtenstein und Island anerkannte EU-Umweltzeichen. Nach und nach hat sich das durch eine EU-Verordnung eingeführte freiwillige Zeichen zu einer Referenz für Verbraucher entwickelt, die mit dem Kauf von umweltfreundlicheren Produkten und Dienstleistungen zum Schutz der Umwelt beitragen wollen.

Ein Auszug wichtiger Kriterien zur Vergabe des EU Ecolabels:
Verringerung der Energie zur Wärmegewinnung
Anschaffung effizienter Klimageräte sowie energiesparender Geräte
Stromerzeugung aus erneuerbaren Energiequellen
Verringerung des gesamten Wasserverbrauchs im Hotelalltag
Optimierung der Verpackungsmaterialien mit großzügigem Verzicht auf Einwegverpackungen
Erhöhung des Anteils umweltfreundlicher Chemikalien sowie eine deutliche Verringerung chemischer Reinigungsmittel
Einsatz von Umweltzeichen-Papiere
Forcierung der E-Mobilität mit kompletter Umstellung auf einen hoteleigenen E-Fuhrpark
Verbesserung der Ladeinfrastruktur vor Ort mit insgesamt zehn Lademöglichkeiten, davon zwei Schnellladestationen
Vergrößerung unseres eigenen Kräutergartens zur Verwendung bei Speisen und Getränken
Bewusste und kontinuierliche Schulung der MitarbeiterInnen
Das Klosterhof Nachhaltigkeits Konzept zum Download
As a modern family business, we want to act responsibly and conserve resources with personal commitment. Even if we don't always fully succeed, we always try our best. Due to our unique location and long history, we are aware of our responsibility in the Berchtesgadener Land.