Lose Weight Healthily with Bodymed
Success with Sana-Fit protein shakes – in line with the German Society for Nutrition (DGE)
How can I lose weight fast? Why am I not losing weight? How can I finally lose weight successfully in the long term? The search for a better diet is hard, and the answers to these questions often vary from person to person.
Sound advice from the doctors and psychotherapists of the Artemacur Health Centre will help you find a way to successful weight loss. It can be challenging to change your eating habits overnight. Far from the temptations of everyday life, we offer weight loss retreats at the Klosterhof, a true hideaway surrounded by pristine nature – the perfect place to make a new start. This package is rounded out by our activity and culture programme.
Please understand that our health packages can only be booked after an individual consultation to find out your personal needs in advance. Please contact us by phone or email if you are interested.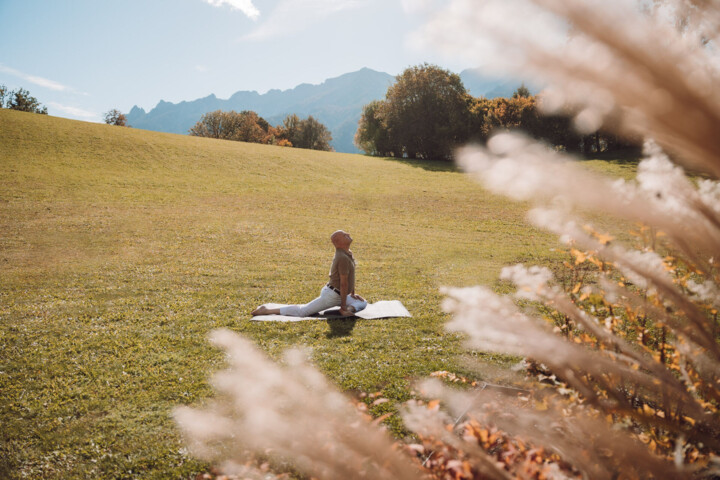 7 nights starting at € 1890 p.p.
Included in this package:
7 nights in the room category of your choice
All fasting meals/Sana-Fit Shakes
Klosterhof included amenities, such as access to the Artemacur Spa including spa basket, gym and Wi-Fi
Participation in our Klosterhof activity programme including fitness courses, yoga, concerts, health lectures and readings
A healthy, balanced meal in line with the flexi-carb method per day
Individual Nordic walking course or personal training (50 min.)
Personalised full-body massage (80 min.)
Lymph drainage (80 min.)
Alpine fango detox treatment (50 min.)
Free parking space

Artemacur Health Centre services:
Continuous medical care and individual instruction
Complete physical exam
Setting up a long-term weight loss programme with a physician's letter and diet plan, as well as continuous progress monitoring using bio-impedance analysis
Price listed is based on a 7-night stay – we will be happy to put together a personalised offer based on the number of nights you'd like to stay with us. Please note: Artemacur Health Centre medical services will be charged separately.
Price listed is per person with double occupancy in our Nature Room.
Please note that our health packages can only be booked after prior consultation and the exact price will be calculated according to the extent of your individual needs.



INFORMATION ON THE 4-PHASE WEIGHT LOSS PROGRAM:
The Bodymed principle is based on the proven 4-phase program.
During a limited period of time, individual meals are replaced by high-quality, filling and tasty protein shakes. The structured consulting program is composed of four phases, which extend over a total of up to 12 weeks. You will spend the first and most important week at the Klosterhof and will be accompanied by our professional team around Dr. med. Andreas Färber.


PHASE 1: Start phase - boost fat burning
During a comprehensive bio-impedance analysis at the Klosterhof, your body values will be recorded together with our team and an individual sport & nutrition plan will be created according to your goals.
You will then start with two fasting days: during this you will drink 5 portions of the starter shake every day. In this way, your metabolism is optimally prepared for the following days.
Why?
Fat burning is initiated without breaking down the muscles.
The sugar storage in the body is emptied and the insulin production by the pancreas is reduced.


PHASE 2: Reduction phase - pounds fall off
In phase 2, the fat reserves are tackled.
There is no time limit for this phase: You simply replace two of your daily three meals with Bodymed Shakes until you have reached your individual feel-good weight. Our chef Sascha Förster and his team will prepare a tasty, low-carb pampering menu for you every day and will be happy to advise you on dishes that can also be easily implemented in everyday life.
Regular check-ups and consultations with Dr. Färber will accompany you during your stay. Our fitness and nutrition consultant Monika will support you in your sports activities.


PHASE 3: Stabilization phase - fixing your new weight
The stabilization phase represents the transition from the reduction phase to long-term nutrition.
In this phase you replace only one of your daily meals with a Bodymed Shake. This diet helps you to maintain your desired weight permanently.


PHASE 4: Maintenance phase - Ensuring success
Have you reached your desired weight? Congratulations!

Now it is important to maintain the weight with what you have learned about healthy nutrition in the last weeks. After your stay, our team around Dr. med Andreas Färber will continue to be available to answer your questions.