Liver Fasting with the Dr Worm Method
Combat metabolic syndrome and non-alcoholic fatty liver – increase your quality of life on your health holiday in the Alps
Non-alcoholic fatty liver is Europe's new hidden widespread disease. It affects every third person in Germany – mostly without the person even knowing it. Symptoms often appear late. Those affected feel tired and exhausted – and at the same time, it is often linked to metabolic syndrome, including major diseases such as type-2 diabetes, high blood pressure and lipometabolic disorder. So what can be done? Fatty liver is usually easy to treat with a specific diet. Give your metabolism a chance to restart. Avoid or reduce your need for medication, and recharge your batteries. The Klosterhof offers everything you need for long-term success: a real retreat, a peaceful haven nestled into a unique setting, in-house medical care and daily inspiration for a long, healthy life full of joy.
Please understand that our health packages can only be booked after an individual consultation to find out your personal needs in advance. Please contact us by phone or email if you are interested.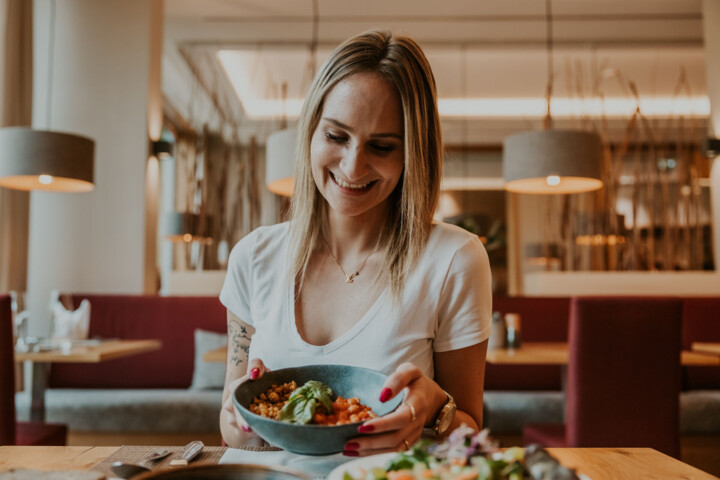 14 nights starting at € 2990 p.p.
We will be happy to put together a customised offer based on your desired length of stay.
We recommend:
14 nights in the room category of your choice
Fasting meals; delicious vegetable and raw food dishes twice daily
10 x liver packs with special Reichenhall salts & Alpine herbs (50 min.)
Klosterhof included amenities, such as access to the Artemacur Spa with spa basket, gym, Wi-Fi
Nutrition lectures (Wednesdays)
Participation in our Klosterhof activity programme with exercise courses, yoga, cultural lectures and readings
Free parking space
Artemacur Health Centre medical services by Dr. med Färber & his team:
Continuous medical care and individual instruction, as well as progress monitoring using bio-impedance analysis
Determine your status using stomach ultrasound and lab work
The recommended liver fasting retreat at the Klosterhof lasts just two weeks and is the perfect way to distance yourself from everyday life and truly relax. A customised fasting plan with discussions, liver packs to promote detoxification and interesting vegetable-based dishes for your HepaFast will transform your "diet" into a wellness holiday for body, mind and soul!
Price listed is based on a two-week stay. Please note: Artemacur Health Centre medical services will be charged separately.
Please note: Our health packages only can be booked after an individual consultation to find out your personal needs in advance. So please contact us by phone or email if you are interested.
Price listed is per person for a two-week stay in our Nature Room with double occupancy.
Liver fasting according to Dr. Worm is particularly effective for:
non-alcoholic fatty liver disease (NAFLD)
non-alcoholic fatty liver hepatitis (NASH)
type 2 diabetes mellitus
Insulin resistance
dyslipidemia
Hypertension

Exactly adapted to your personal needs:
Liver fasting according to Dr. Worm is extremely easy and problem-free to implement with our support and is therefore, of course, completely suitable for everyday use.

The special feature of liver fasting according to Dr. Worm is the very low calorie intake combined with an optimal supply of all important dietary fiber and nutrients and, of course, a good degree of satiety.


Three meals as well as two delicious vegetable dishes in the hotel Klosterhof per day:

The 3-meal principle is one of the success factors of our liver fasting cure according to Dr. Worm. This is the only way to keep your insulin levels low so that fat breakdown in the liver can be optimally promoted. During the cure their three meals consist in each case of a HepaFast shake with the unique reset formula.

Our chef Sascha Förster and his team will also prepare two tasty and varied vegetable meals for you every day. So you are guaranteed not to get bored with the liver-friendly diet during the fasting cure! You will not consume more than 200 kcal per day via the tasty vegetable dishes. You are guaranteed to be surprised at how many vegetables you can eat and how wonderfully satiated you will feel.

HepaFast is a high quality protein shake and contains many of the good oat fiber. Since these have the property of retaining water, it is essential to make sure you have a high enough fluid intake during your liver fast. Mineral water, herbal teas or green tea are ideal for this. You can also enjoy coffee or black tea without restriction during this time.

Regular check-ups and consultations with Dr. Färber will accompany you during your stay so that the liver fasting retreat in our health hotel in Bavaria leads to full success.
Our fitness and nutrition consultant team will support you in your sporting activities to find an optimal balance between health, fitness and wellness for you.